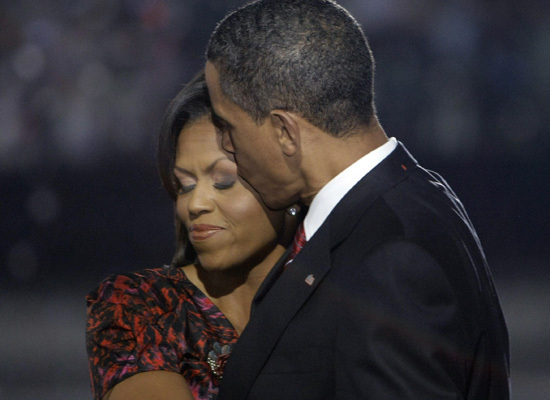 I read a great article the other day about how the Obamas' marriage is a great example to us all. Keith and I just celebrated our 21st anniversary and I must admit - the Obamas' marriage is a true encouragement to me.
"For Americans, one of the most important aspects of an Obama presidency is being overlooked: the model of a healthy relationship....For example, Michelle and Barack do something we've never seen before in a presidential couple: they actually look directly at each other when they're speaking to each other. They also laugh at each other's humor, and they allow their sexual attraction for each other to be visible. Contrast that with other presidential marriages, in which the sexual attraction to each other was not visible but their sexual attraction to others became highly visible. Michelle and Barack talk openly about their feelings for each other. They're real."
Today there is a wonderful slide-show of some of their most tender moments on the trail - I highly encourage you to see the real affection this family has for each other, it's truly inspirational.
The Obamas' Greatest PDA Moments - Slideshow
The Obama Relationship: A Major Benefit Nobody's Talking About
Happy Anniversary Michelle & Barack!